As of April 16, 2020 SARS-CoV-2 Response
We are committed to the safety and health of all our Worldwide Employees and Customers and will endeavour to follow all guidelines of Centers for Disease Control and Prevention (CDC), Public Health England and applicable local governments. During this time all our global teams will be following Work-From-Home directives and will continue to work normal business hours. We apologize for any delay in responses and appreciate your understanding.
Business Intelligence is a charting tool designed to give managers and supervisors a high level graphical overview of their inbound and outbound call statistics.
Business Intelligence uses a browser connection to access the information enabling the user to quickly analyze the performance of call handling within the business from both desktop and portable devices.

Les graphiques peuvent être visualisés instantanément à l'aide de plages de dates prédéfinies ou personnalisées pour plusieurs variables, telles que réponse / absence, direction, appareil, etc. Il est également possible d'appliquer des filtres pour affiner les résultats. Les types de graphique peuvent être les suivant : barres, lignes et camembert.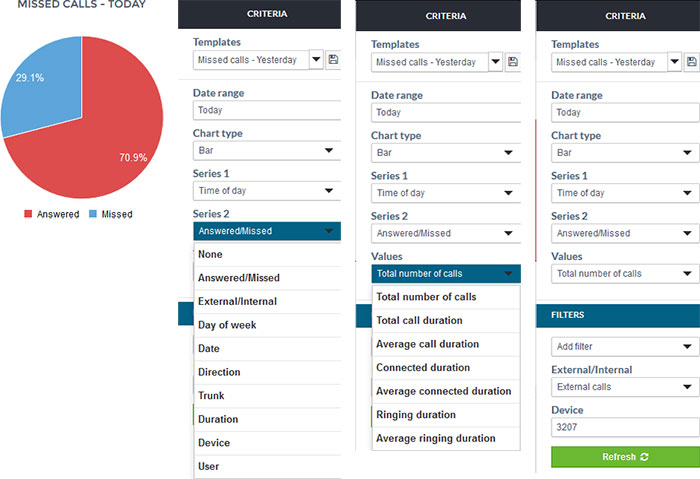 Les données sont stockées sur le serveur Go Connect, qui sert également de serveur Web. Aucune infrastructure supplémentaire n'est donc requise. La fonctionnalité est activée via une licence "graphique" qui peut être installée comme toute autre licence Go Connect. Chaque licence permettra une seule connexion de navigateur.