As of April 16, 2020 SARS-CoV-2 Response
We are committed to the safety and health of all our Worldwide Employees and Customers and will endeavour to follow all guidelines of Centers for Disease Control and Prevention (CDC), Public Health England and applicable local governments. During this time all our global teams will be following Work-From-Home directives and will continue to work normal business hours. We apologize for any delay in responses and appreciate your understanding.
Business Intelligence es una herramienta de gráficos diseñada para brindar a los gerentes y supervisores una visión gráfica de alto nivel de sus estadísticas de llamadas entrantes y salientes.
Business Intelligence utiliza una conexión de navegador para acceder a la información que permite al usuario analizar rápidamente el desempeño del manejo de llamadas dentro de la empresa desde dispositivos de escritorio y portátiles.

Los gráficos pueden verse instantáneamente utilizando rangos de fechas predefinidas o personalizadas para múltiples variables, tales como respondidas / perdidas, dirección, dispositivo, etc. También se pueden aplicar filtros para reducir los resultados. Los tipos de gráficas pueden variar desde barra, línea y circular.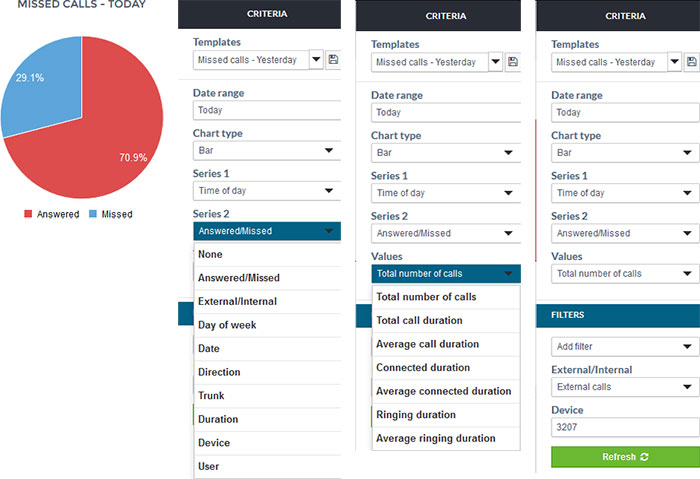 Los datos se almacenan en el servidor Go Connect, que también actúa como servidor web, por lo que no se requiere infraestructura adicional. La función se habilita a través de una licencia de "creación de gráficos" que se puede instalar como cualquier otra licencia Go Connect. Cada licencia permitirá una única conexión de navegador.