Go Connect comes packed with plenty of features.
Explore the features below and how to use them.
Making calls
Making calls from your computer is straightforward with Go Connect.
It will increase your productivity by saving you time and reducing the number of misdialled numbers.
Web page dialling
Go Connect supports two separate ways of dialing from web pages.
Web pages can be scanned for valid telephone numbers and, when found, they are turned into hyperlinks to make dialing easy. Also, Go Connect can be configured to provide dialling directly from many web-based CRM packages.
Screen popping allows a CRM contact record associated with an inbound caller's number to be opened simply by clicking an icon shown in the preview window.
This can be configured to pop automatically if preferred.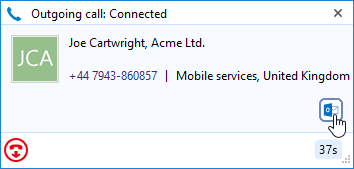 The Address Book provides an easy way to create contacts.
Users can search for existing contacts or create new ones easily while on the telephone. The Address book is extended to include CRM contacts when integration is used.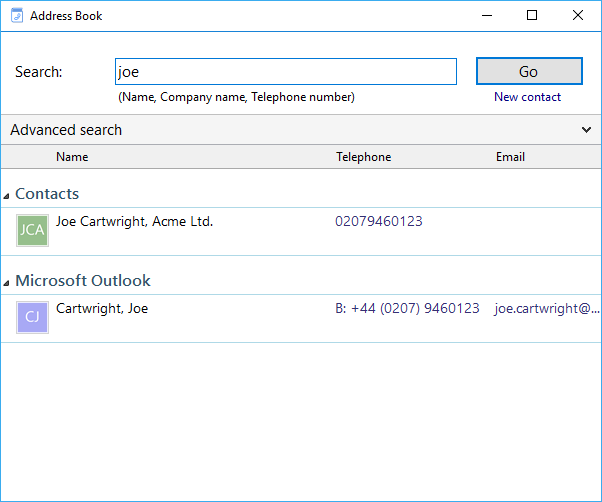 The Call History window contains a list of an extension user's recent calls.
Users can make calls directly from the Call History window.
The video shows the Call History window being used.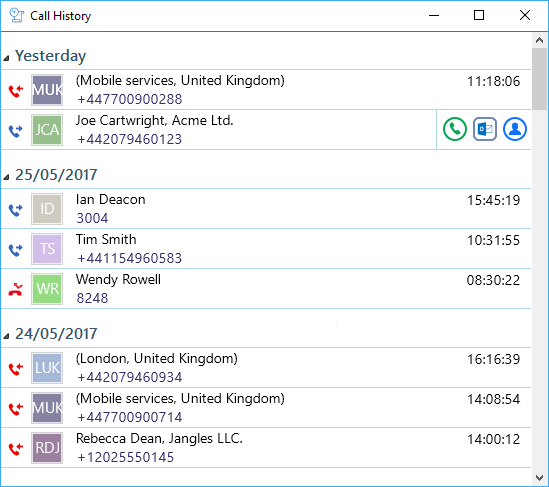 The Presence window allows users to see the extension status of their colleagues.
The content of the display itself can be controlled in order to define and limit which user extensions are displayed. The window also allows a user to make calls to (or consult with, or transfer calls to) any of those extensions.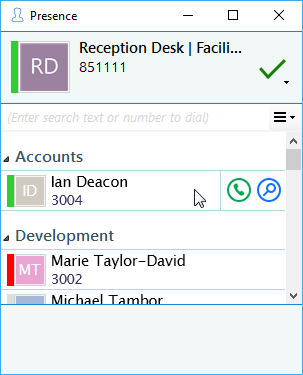 Two areas of Skype for Business integration are available through the Go Connect PC client when installed on a PC that is also running the Skype for Business client.
Although call control is still done through the Go Connect client, the Skype for Business user can make calls to other Skype for Business users using the "Call using deskphone" option that is inserted in to the standard Skype for Business menu by Go Connect. If "Update Skype for Business state when on a call" is checked in the Go Connect PC client configuration, the Skype for Business client's status will be automatically set to "in a call" when the handset makes or receives a call, or "do not disturb" when the handset goes to DND.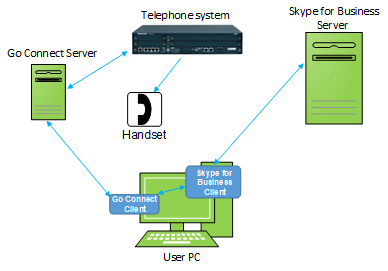 Technical Functionalities
Go Connect Client

Infrastructure
Architecture
Go Connect client is installed on the end user PC which makes a connection to the Skype for Business client installed on the same PC.
Licenses required (for each user who requires the functionality)
Any Skype for Business CAL
Any Go Connect PC client e.g. Office / Office Plus or CRM
Skype for Business environments supported
Please click here
Call control
Answer handset
From Go Connect Preview (pop-up) window
Call Forward handset
From Go Connect client
Transfer call
From Go Connect client
Make call
From Skype for Business client or Go Connect client
Status update
Skype for Business Client

-

"In a call"
When the handset makes or receives a call
Skype for Business Client

-

"Do not disturb"
When the handset goes to DND
Go Connect Softphone is a fully featured softphone embedded within the Desktop and Attendant clients (PC only) transforming your PC into a mobile extension. Go Connect Softphone requires a Go Connect Softphone license in conjunction with an Office, Office Plus or CRM licenses. It also requires a third-party SIP extension to be configured on the Telephone system.
Note:Terminal Services / Citrix are not supported with Go Connect Softphone.
Preferred Device
Preferred Device allows a user to monitor and control multiple devices and select which device they prefer to use to make and receive calls.
---
External LED
Go Integrator integrates with Kuando Busylight and Embrava Blynclight so now everyone in the office can see if a colleague is available for a conversation, busy on the phone or simply does not want to be disturbed.
Go Connect
Available (not on a call)
Held
Busy (on a call/online meeting)
Ringing
Do Not Disturb / Forward
External LED colour
Green
Fast flashing yellow (250ms)
Red
Flashing red (500ms)
Blue
Click here for more information on Em
brava Blynclight
---
Microsoft Active Directory Integration
Directory integration allows Go Connect users to be created directly from users already defined in Microsoft Active Directory. This feature is particularly powerful when used in conjunction with Go Connect's enhanced client security enabling fast deployment of secured Go Connect user accounts. The Go Connect user accounts will also be auto-populated with both internal and external numbers defined in Microsoft Active Directory. This is very beneficial for clients that make use of DDI numbers such as the Go Connect Mobile client.
Directory integration can also work the other way, that is, telephone numbers defined in Go Connect can populate Microsoft Active Directory.
---
Microsoft Exchange Calendar Integration
Microsoft Exchange calendar integration allows a user's availability and absence greeting to be updated directly from the Microsoft Exchange server. Microsoft Exchange calendar integration will update a user's availability and absence greeting regardless of the status of their Go Connect client.