As of April 16, 2020 SARS-CoV-2 Response
We are committed to the safety and health of all our Worldwide Employees and Customers and will endeavour to follow all guidelines of Centers for Disease Control and Prevention (CDC), Public Health England and applicable local governments. During this time all our global teams will be following Work-From-Home directives and will continue to work normal business hours. We apologize for any delay in responses and appreciate your understanding.
Business Intelligence is een grafiekhulpmiddel dat is ontworpen om managers en supervisors een grafisch overzicht op hoog niveau van hun inkomende en uitgaande gespreksstatistieken te geven.
Business Intelligence maakt gebruik van een browser connectie om toegang te krijgen tot de informatie die zorgt dat de gebruiker de prestaties van gespreksafhandeling binnen het bedrijf snel kan analyseren van zowel vaste als draagbare apparaten.

Grafieken kunnen direct worden bekeken door het gebruikmaken van vooringestelde of aangepaste data reeksen voor meerdere variabelen zoals beantwoordt / gemist, richting, apparaat enz. Filters kunnen ook worden toegepast om de resultaten te filteren. Grafiektypen kunnen balk, lijn en taartpunt zijn.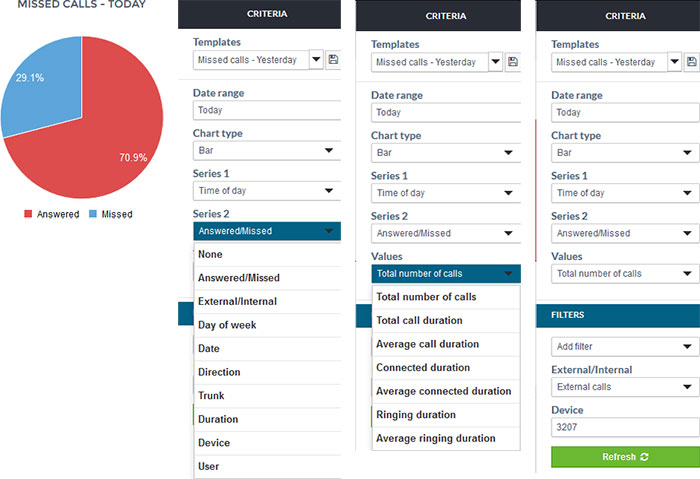 De data wordt op de Go Connect server opgeslagen, die ook functioneert als de webserver, dus is er geen additionele infrastructuur nodig. De functie wordt geactiveerd door een "charting" licentie die net als elke andere Go Connect licentie geïnstalleerd kan worden. Elke licentie staat een enkele browser connectie toe.