As of April 16, 2020 SARS-CoV-2 Response
We are committed to the safety and health of all our Worldwide Employees and Customers and will endeavour to follow all guidelines of Centers for Disease Control and Prevention (CDC), Public Health England and applicable local governments. During this time all our global teams will be following Work-From-Home directives and will continue to work normal business hours. We apologize for any delay in responses and appreciate your understanding.
Business Intelligence ist ein Charting-Tool, das Managern und Dienstvorgesetzten einen grafischen Überblick über die Statistiken zu eingehenden und ausgehenden Anrufen bietet.
Business Intelligence verwendet eine Browser-Verbindung, um auf die Informationen zuzugreifen, sodass der Benutzer die Leistung der Anrufverarbeitung innerhalb des Unternehmens schnell analysieren kann, und zwar sowohl von Desktop- als auch mobilen Geräten.

Diagramme können sofort mit vordefinierten oder benutzerdefinierten Datumsbereichen für mehrere Variablen wie Entgegengenommen/Verpasst, Richtung, Gerät usw. angezeigt werden. Um die Ergebnisse einzugrenzen, können auch Filter angewendet werden. Die Diagrammtypen umfassen Balken-, Linien- und Kreisdiagramm.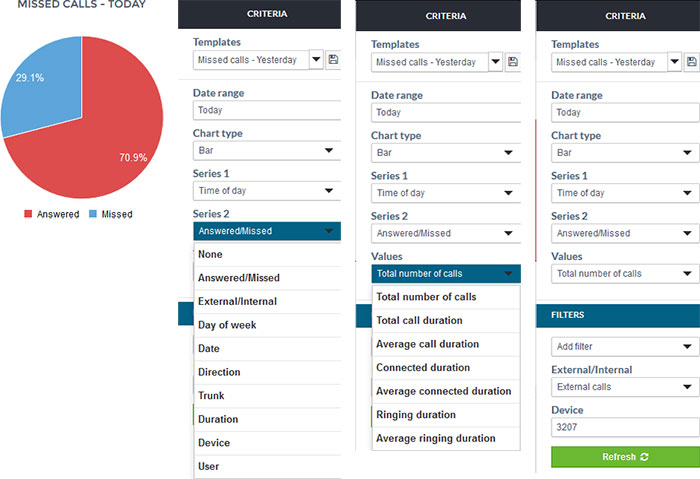 Die Daten werden auf dem Go Connect Server gespeichert, der auch als Webserver fungiert, sodass keine zusätzliche Infrastruktur erforderlich ist. Die Funktion wird durch eine "Chart"-Lizenz aktiviert, die wie jede andere Go Connect-Lizenz installiert werden kann. Jede Lizenz erlaubt eine einzige Browser-Verbindung.