As of April 16, 2020 SARS-CoV-2 Response
We are committed to the safety and health of all our Worldwide Employees and Customers and will endeavour to follow all guidelines of Centers for Disease Control and Prevention (CDC), Public Health England and applicable local governments. During this time all our global teams will be following Work-From-Home directives and will continue to work normal business hours. We apologize for any delay in responses and appreciate your understanding.
Business Intelligence is a charting tool designed to give managers and supervisors a high level graphical overview of their inbound and outbound call statistics.
Business Intelligence uses a browser connection to access the information enabling the user to quickly analyze the performance of call handling within the business from both desktop and portable devices.

I grafici possono essere visualizzati istantaneamente usando intervalli di date predefiniti o personalizzati per variabili multiple come risposta/persa, direzione, dispositivo ecc. I filtri possono essere applicati anche per restringere i risultati. I tipi di grafici possono variare da quelli a barra, a linea e a torta.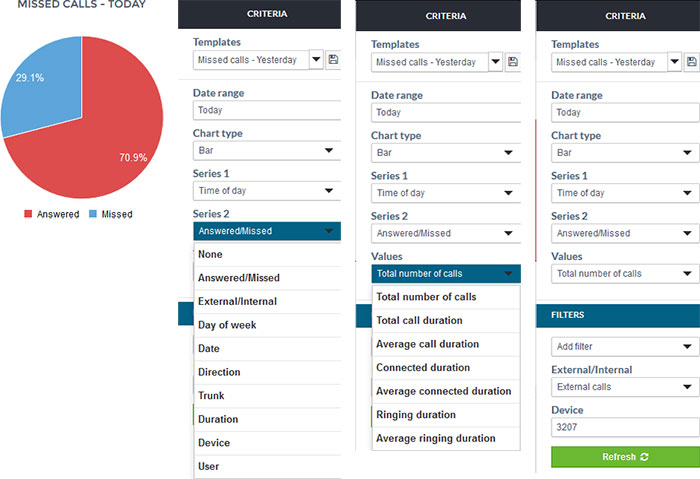 I dati sono memorizzati sul server Go Connect, il quale funge anche da web server, pertanto non è richiesta alcuna infrastruttura aggiuntiva. La funzionalità è abilitata attraverso una licenza "grafica" che può essere installata come qualsiasi altra licenza Go Connect. Ogni licenza consentirà una singola connessione browser.