Doorverbind venster
Om een ​​gesprek door te verbinden of om een collega te raadplegen drukt u niet op de Wacht knop. De In De Wacht knop heeft een ander doel (hierover later meer). In plaats daarvan klikt u of op de knop Raadplegen of op de knop Doorverbinden.


U kiest aan de hand van of u de andere persoon wilt spreken of niet de knop (Raadplegen) of (Doorverbinden).
Uw oproep staat op dit moment nog niet in de wacht. Wanneer u klaar bent, typt u het te kiezen nummer en klikt u op de Doorverbinden/Raadplegen knop overeenkomstig met de vereiste actie.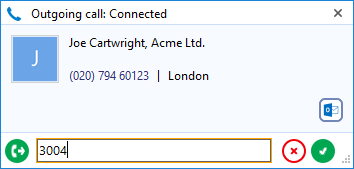 Wanneer u raadpleegt wordt het oorspronkelijke gesprek in de wacht gezet in afwachting van het doorverbinden (de in behandeling zijnde doorverbind bit is belangrijk).
Als u doorverbindt zal het gesprek meteen door worden gezet (vergeet niet om eerst afscheid te nemen).
Als u klaar bent met het raadplegen van de andere beller, kunt u op Annuleren klikken om terug te keren naar het oorspronkelijke gesprek of klikken op Compleet om het oorspronkelijke gesprek naar uw collega door te verbinden.
U kunt ook gesprekken via het Beschikbaarheidvenster doorverbinden.